Why does my pet need an omega
supplement?
Most commercial pet foods today contain too many omega-6s and too few omega-3s. Excess omega-6s can cause skin and coat health issues, such as inflammation, itchy skin and dandruff, along with other health problems.
Adding Grizzly omega supplements to your pet's diet gives them a balanced omega-3 to omega-6 ratio for optimum health.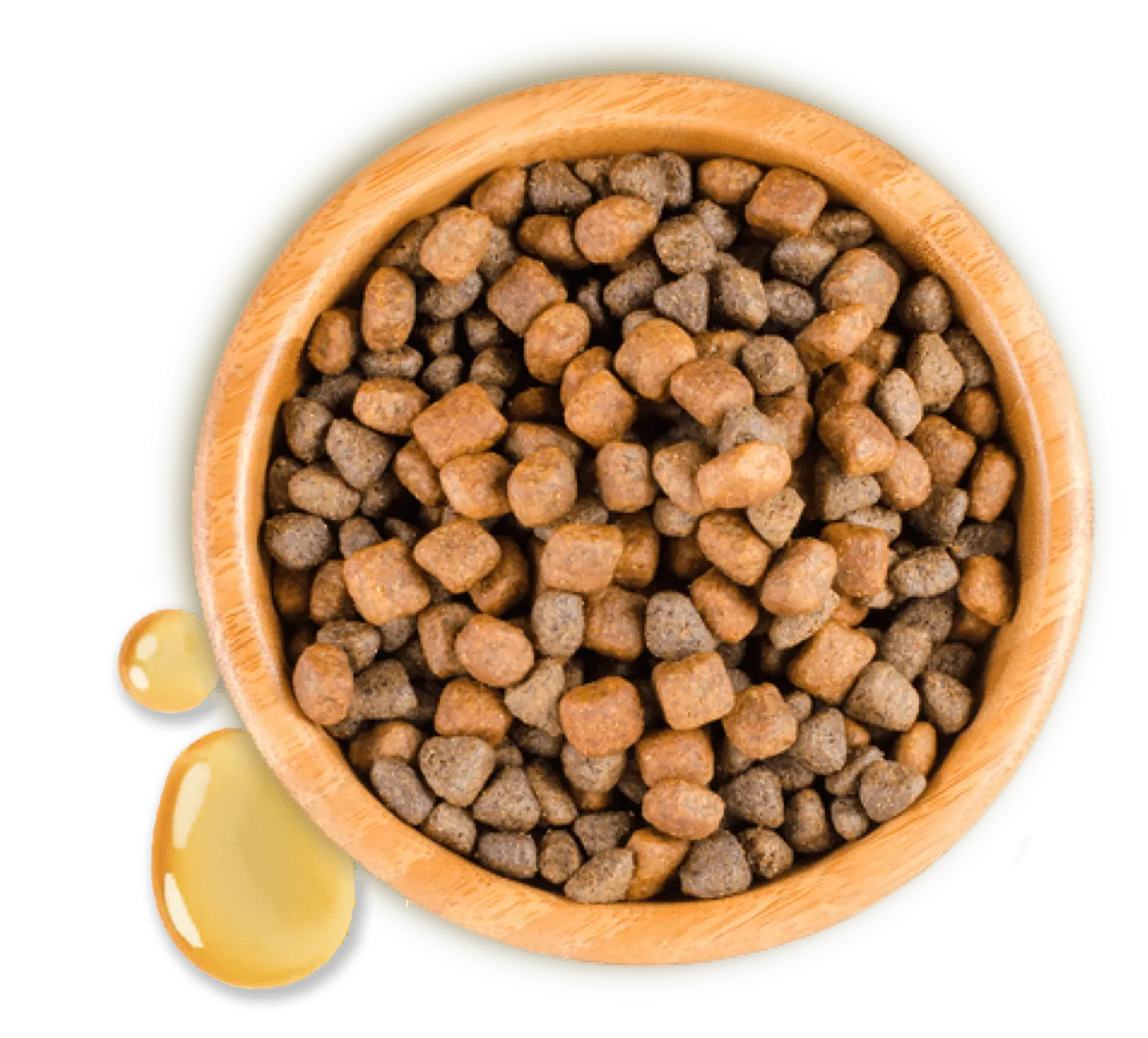 What role do omegas have in the body?
OMEGA 3 FATTY ACIDS
Omega 3's are essential; and therefore, must come from your pet's diet. DHA & EPA are found in marine sources like cold water fatty fish. EPA & DHA help strong immune, cardiovascular & nervous system function, healthy joints, and skin & coat health. ALA comes from plant sources and supports skin & coat health, but it is not as bioavailable as DHA & EPA for pets.
OMEGA 6 FATTY ACIDS
Omega 6's are also essential fatty acids that support healthy cell function. However, an elevated Omega-6 content may trigger inflammation in your pet's body.
OMEGA 9 FATTY ACIDS
Omega 9's are not nutritionally important fatty acids since the pet's body makes Omega-9s as needed. The body burns excess Omega-9s as a calorie-dense source of energy.
How do Grizzly's Omega oils differ from other omega supplements?
Grizzly's omega fish oils use 100% wild-caught fish, which contain significantly higher omega-3s than farmed fish. This is because farmed fish diets can include up to 15% vegetable oil (omega-6s). Catching wild is also a more environmentally sustainable sourcing practice than farming, which releases waste and chemicals, like antibiotics, spawning hormones and algicides, negatively impacting native populations, the ocean, and the surrounding environment. (Source: IATP.org)
Some omega supplements feature only plant-based oils rich in ALA Omega 3 Fatty Acids. ALA is not as nutritionally available as EPA and DHA, requiring a 3-step conversion process in your pet's digestive system. Aside from fresh seaweed, plant foods rarely contain EPA or DHA. Grizzly uses only wild fish and microalgae rich in the EPA & DHA in our omega supplements to support your pet's long-term health and wellbeing.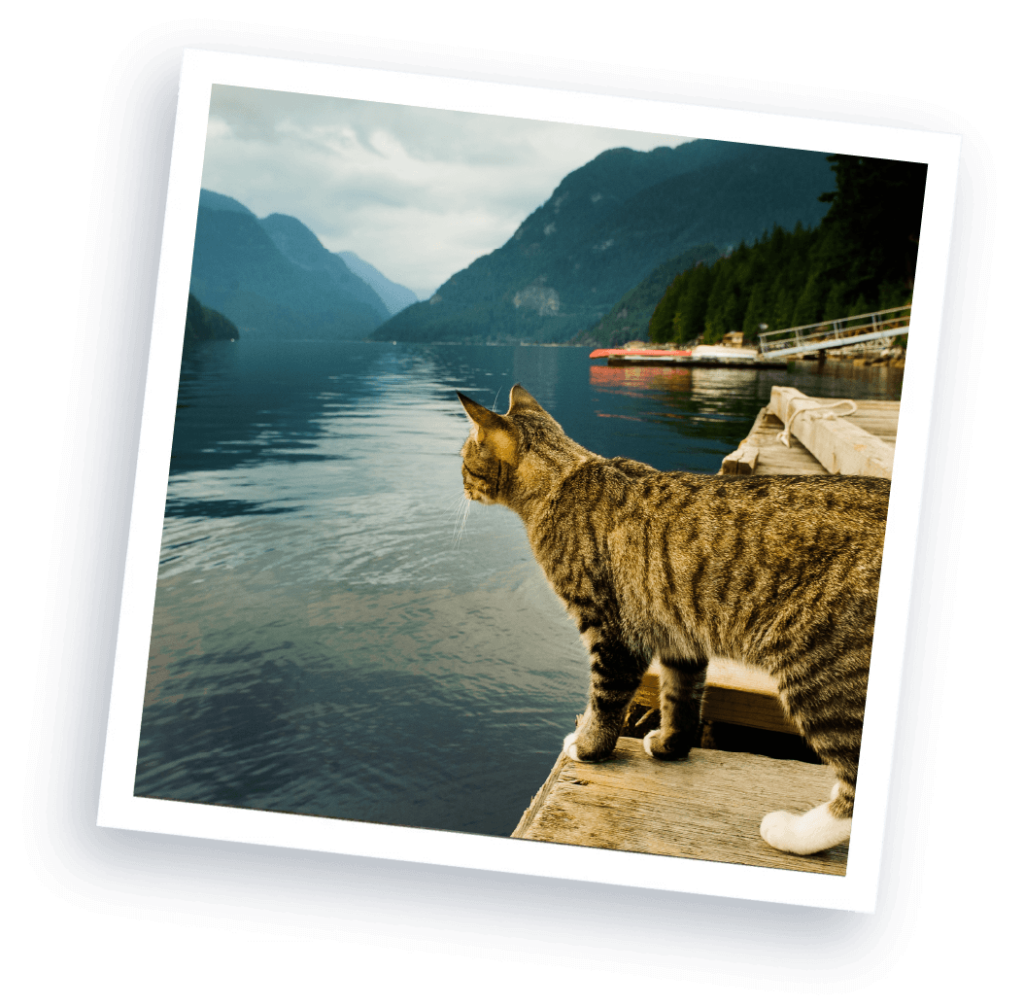 COMPARE OMEGA SUPPLEMENTS
HOW to CHOOSE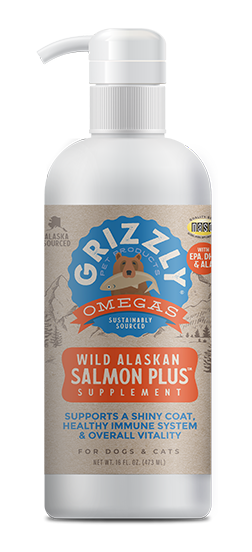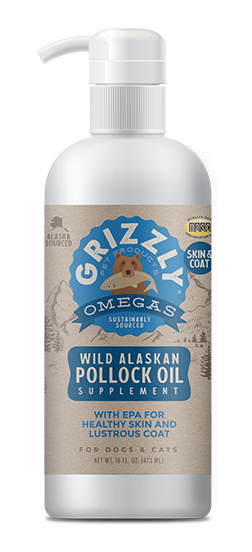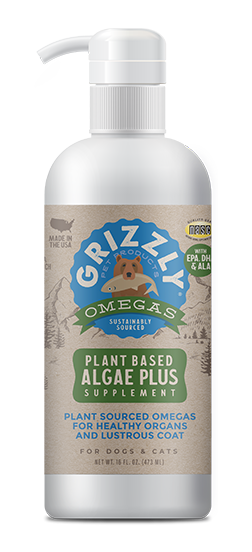 PET HEALTH GOAL
SKIN & COAT HEALTH
HEART HEALTH
ORGAN HEALTH
PUPPY DEVELOPMENT HEALTH
IMMUNE SYSTEM HEALTH
SUPPORTS HIP & JOINT HEALTH
SUPPORTS CENTRAL NERVOUS SYSTEM
WILD-CAUGHT FISH
NO FISHY SMELL / BREATH
VEGAN / VEGETARIAN
SALMON PLUS
*
*
*
*
*
*
*
*
*
*
*
*
*
*
*
*
*
*
*
*
*
*
*
*
*
*
*
*
*
*
*
*
POLLOCK OIL
*
*
*
*
*
*
*
*
*
*
*
*
*
*
*
*
*
*
*
*
*
ALGAe PLUS
*
*
*
*
*
*
*
*
*
*
*
*
*
*
*
*
*
*
*
*
*
*
*
*
*
*